You want to apply for some assistant professor or lecturer position in France (Maître des Conférences – MCF), and you don't know how to prepare an analytical presentation ("présentation analytique") or an academic CV. If you have no idea of what it means, and you are lost in the process of the French academic system, I'll tell you more in this article.
First, I'll say that I don't possess an ultimate knowledge about the so-called "présentation analytics". I'm just a French historian, who had passed the qualification in Ancient History (section 21 of CNU), and applied for two recruit campaign for a lecturer position in 2022 and 2023 on the Galaxy portal. But, if I can share with you some intel from my professors and academics contacts who review my documents, I would gladly do it…
What exactly is an analytical presentation ?
When I saw the term "analytical presentation" on the form the first time, it meant nothing to me. I fell from the clouds, and after some thought process, the only definition that came to me was : "something vaguely close to a very long CV". Furthermore, when I asked the administration for more details, nobody seemed to really know what I need to put inside. For some, it was specific to the CNU' section, and for other to selection committee… So, "what is it precious" ?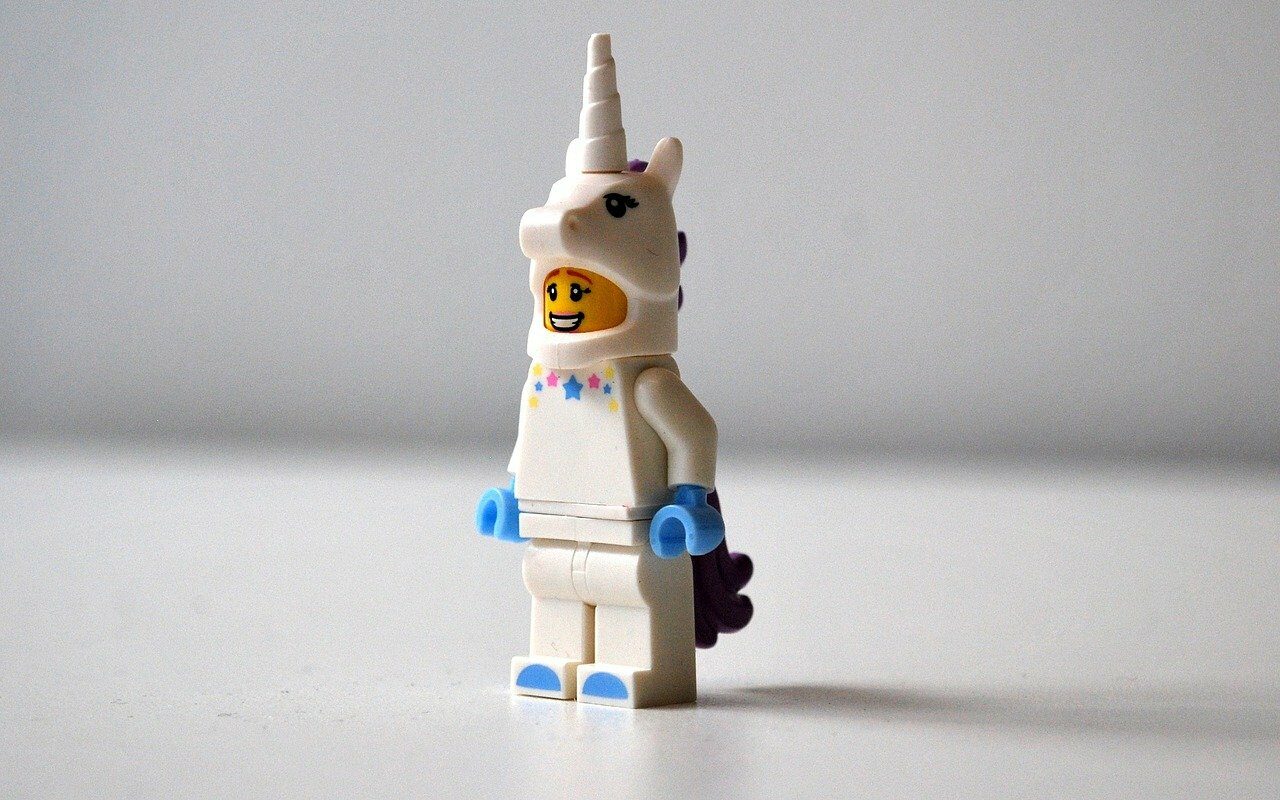 To show what colleague you'll be !
An analytical presentation is a type of document about 20 to 40 pages that resumes with exhaustive data, and logical arguments about your research and academic background to convey information in a structured and persuasive way. The purpose of an analytical presentation is to provide insight and global understanding of your academic formation, realizations, and futures researches projects. So it's not a classical resume, it's a huge argumentation to show how your work match to the laboratory project. I voluntarily insist on the huge part, because some of them can be up to a hundred of pages.
To do so, you can (have to) use a variety of tools, such as illustrations, lists, map, graphs, tables, and diagrams to illustrate yours data and make it easier for your reader. You can also break down the information into smaller resumes and written synthesis, and uses a step-by-step approach to explain the conclusions and present findings and draw conclusions based on data and analysis.
To create an effective analytical presentation, it is important that you have a clear understanding of your audience, their needs, and their level of knowledge about your research topic. You should also be able to distill complex information into concise language, and use visual aids effectively to support your argumentation. In conclusion, you have to show what colleague you'll be and why you are the perfect match for this laboratory. So, how to prepare an analytical presentation?
Propose a crystal clear and navigable document
– The first thing to do is to generate a clickable summary at the beginning of your document. It will serve as an introduction for the rest of your file and make navigation easier for your reader. This is critical, because it can make a real difference between yours and less-readable files and so influence the reader's choice by avoid him to scroll painfully through the pages... The final goal is to emphasize the interesting points of your career.
In addition, number the pages and check in the last reading that the numbers follow each other in the pages and in the summary (from experience, Word is often teased with our official documents)
Do your research to catch the reader's eye!
– Standing out with an airy layout, a graphic charter and a visual identity is essential. This helps to harmonize your file and make it more attractive. For my part, I have chosen to use for each file the colors used by the research laboratories on their website and/or reports…
My dossier had many fully written pages. Therefore, I alternated as much as possible the divider pages which announced the rest. I did the same with the pages in synthetic CV format, the detailed summaries, the bibliographic listings, and the tables or illustrations in order to vary the layouts while maintaining consistency in the information.
– At some points, you can offer illustrations, chart, or boxed text to segment the pages and visually summarize your strengths. It can appear repetitive, but the lazy reviewer does not have to search for the important information. Everything should be presented in the best light!
Here's what my presentation contained this year:
There is no universal plan ! You must compose yours according to the job description and your qualities. However, the sequence of parts can be copied on the choice and placement of titles in the job description. See if teaching is placed before research, for example, or if your list of achievements must be provided separately… Read this job description carefully, because it contains telling details on the priorities of the laboratory or the university. You will also find many keywords that you have generated to compose your profile, in all honesty of course.
1- a clickable presentation page to navigate through the file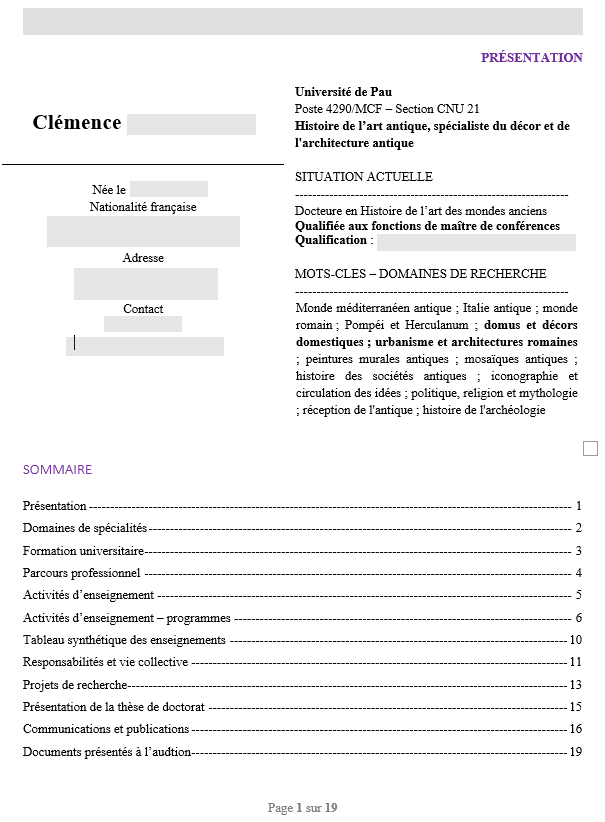 On this page, your examiner will find a brief summary of your background, your personal information and the organization of your file. You can also add a small introduction explaining the contents of the folder. I chose not to do so, because for each section I added a divider page with a small introductory description of what follows.
On the other hand, I deliberately decided to emphasize the keywords. They have the advantage of quickly showing how your application is suited to the position.
Your CNU section, the position number, your candidate number, your qualification number and your personal information must be visible at first glance on the first pages.
Here is an example of the report that the jury must complete for the hearing. This gives you the information that must appear on the first page.
Source : document taken from the « guide du voyage galaxique » (2nd edition, 2021).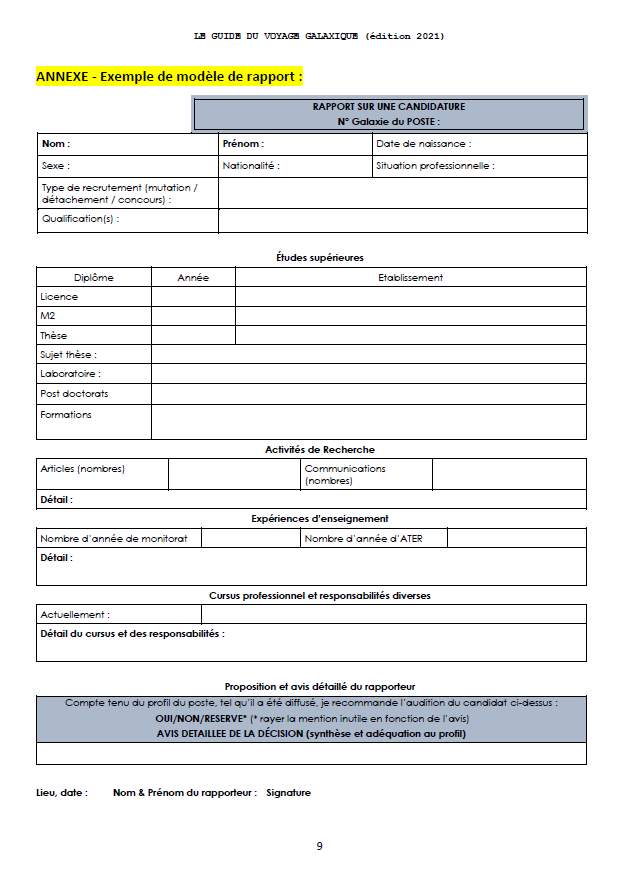 2- a summary of my research areas and teaching experiences + my latest position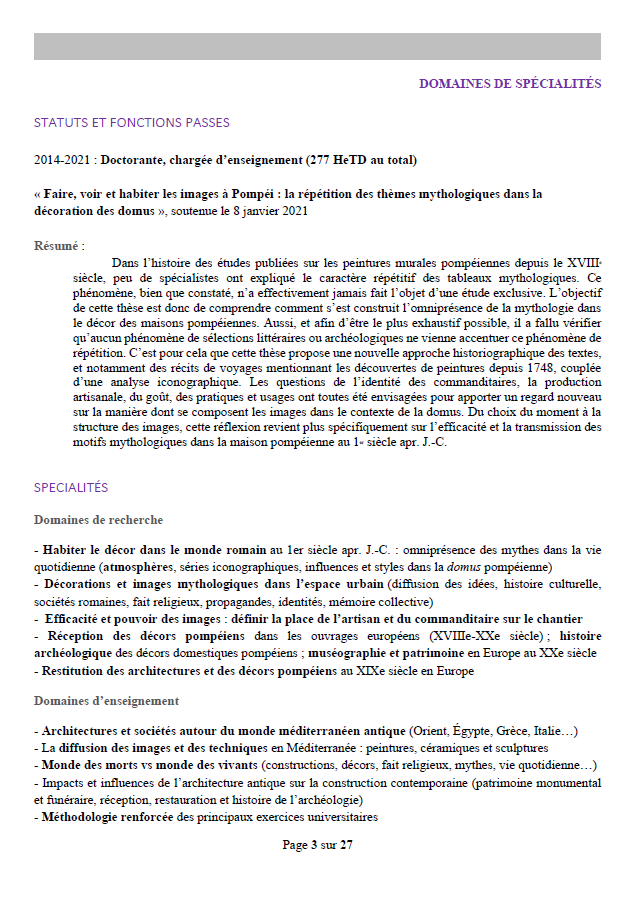 This page is a small presentation of my expertise and what is important to me. It resumes the specialties on which I work at the moment and those I teach now and in the past.
Again, this is very useful for the reader who doesn't want to read the whole document. This is an introductory page to break the ice and quickly detail your areas of teaching and research.
3- two pages in CV format for my academic training, professional background, distinctions, scholarships…
Don't skimp on the details. Be honest and take the time to catalog everything that you think is significant to define your career. Even the smallest detail can count.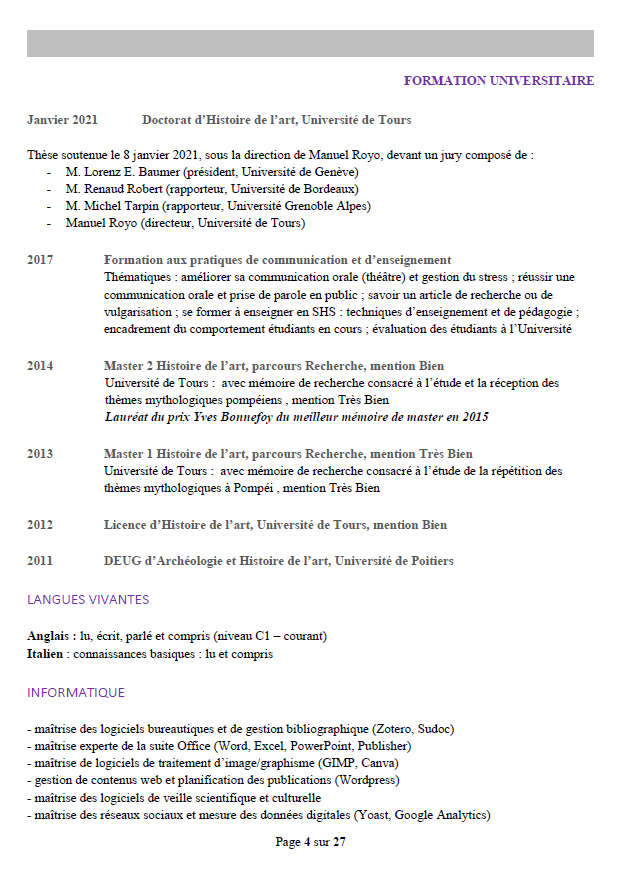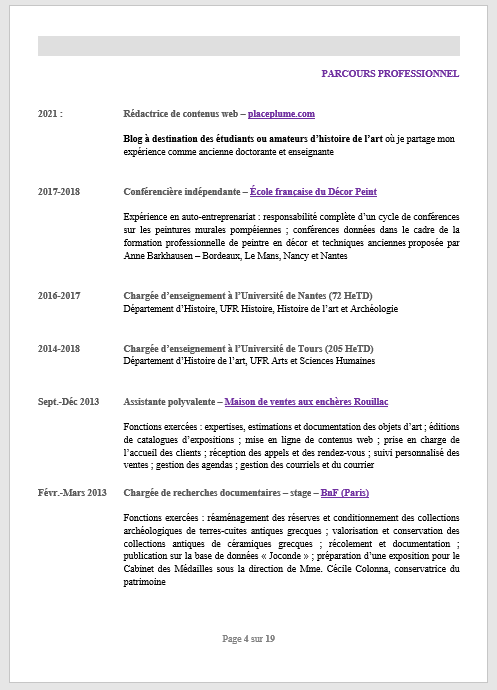 4- a summary describing my teaching experience (3 paragraphs, approximately 300 words)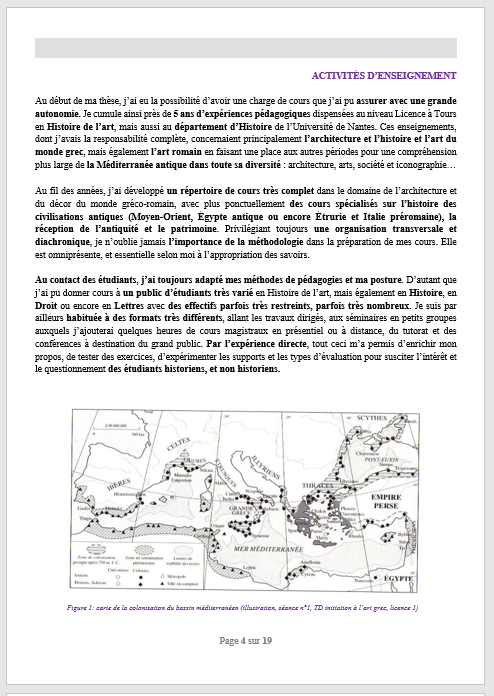 Here, I describe and analyze my teaching methods and the main topics I taught in class. It is also a great opportunity to remind my reader that I am passionate about my job and why I am VERY motivated!
5- a numbered list of my teachings (4 pages)
In this section, I have classified and detailed my teachings by major themes. The important thing for me was to show that I am on the same wavelength as the educational brochures offered by the university. I indicated the number of HETD hours, the level, the type of course (CM or TD) then a detailed program and the course's objectives.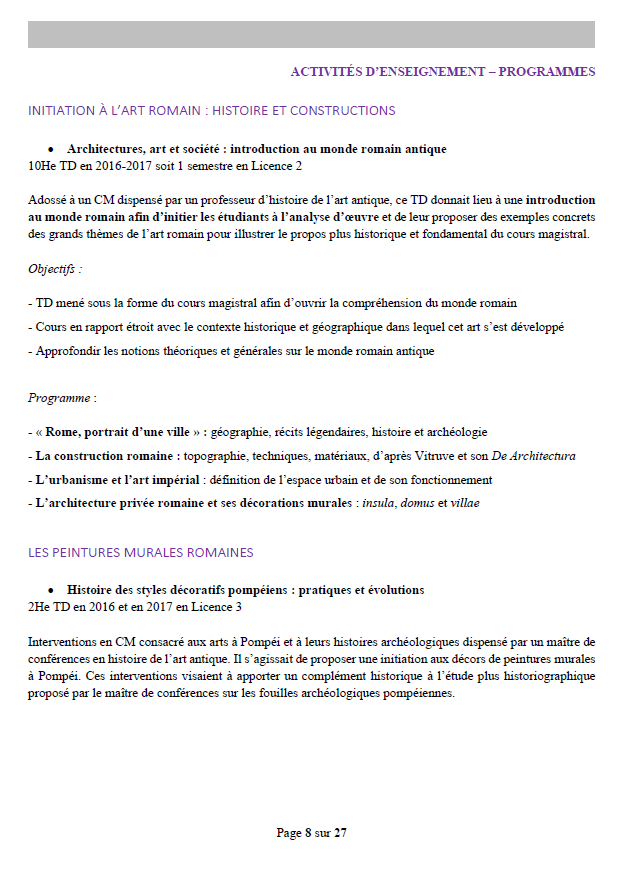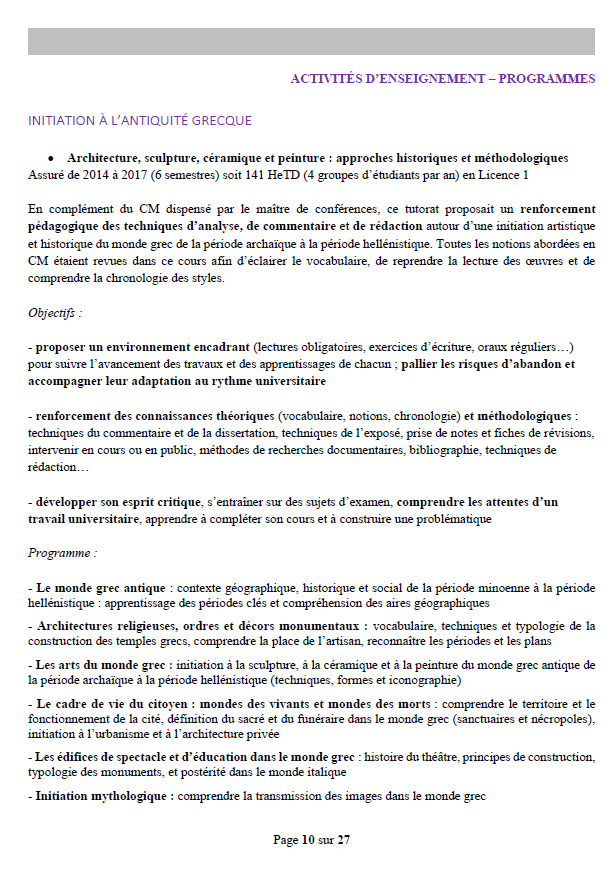 6- summary table of my teachings and total hours
For the jurors who would have been lazy to read the full description, I added a summary in the form of a table that is more accessible and quick to read. At a glance, you can find the years of teaching, the establishments, the levels, the subjects taught, the type of teaching, the timetables per semester, the number of groups and the themes covered.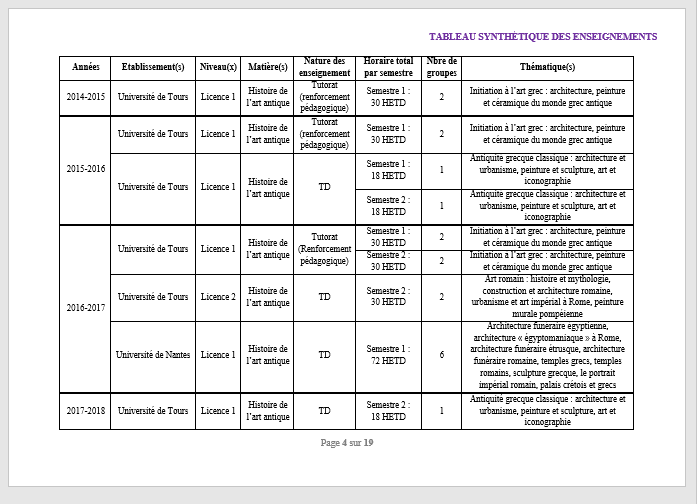 7- one page on my administrative, collective and associative responsibilities
This category is more personal, but it can say a lot about how involved you are in the university or lab life. Moreover, information that seems anecdotal to you may have a more important meaning for the jury. Do not omit any meaningful detail.
8- a detailed summary of my past and future scientific fields and research projects (500 words)
If the whole document is about what has been done, you must also to describe how you will integrate existing research programs and what you would like to do. In addition, it may be of interest for you to describe your current working partnerships and research collaborations, especially if you have international contacts. Laboratories are frequently looking for new international links or European research partners.
My presentation was about 500 word, but it can be longer… This is an opportunity to make people want to work with you. You have to bring interesting and solid work topics. Some candidates also add a "laboratory integration project" to their file. It's a kind of cover letter with ideas for concrete projects to set up with future teams. The mandatory nature of this text remains quite controversial, depending on the position. To write it, you will have to call the director of the laboratory directly to determine your future projects with him, which is not always appreciated in all sections of the CNU… The best thing is to seek advice from your network of academic professionals.
9- a page with illustrations to illuminate the text (and provide a visual pause)
10- a detailed summary of my thesis work (400 words)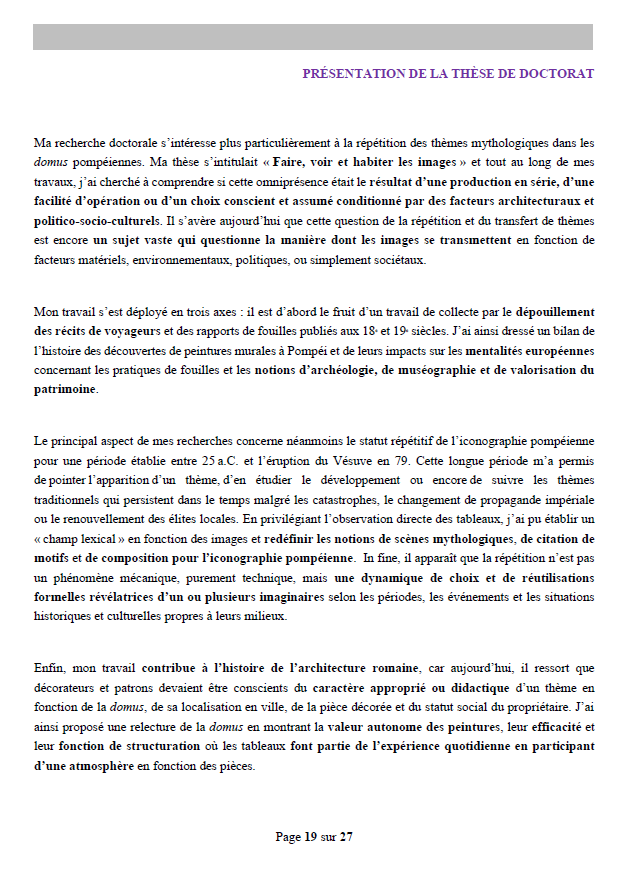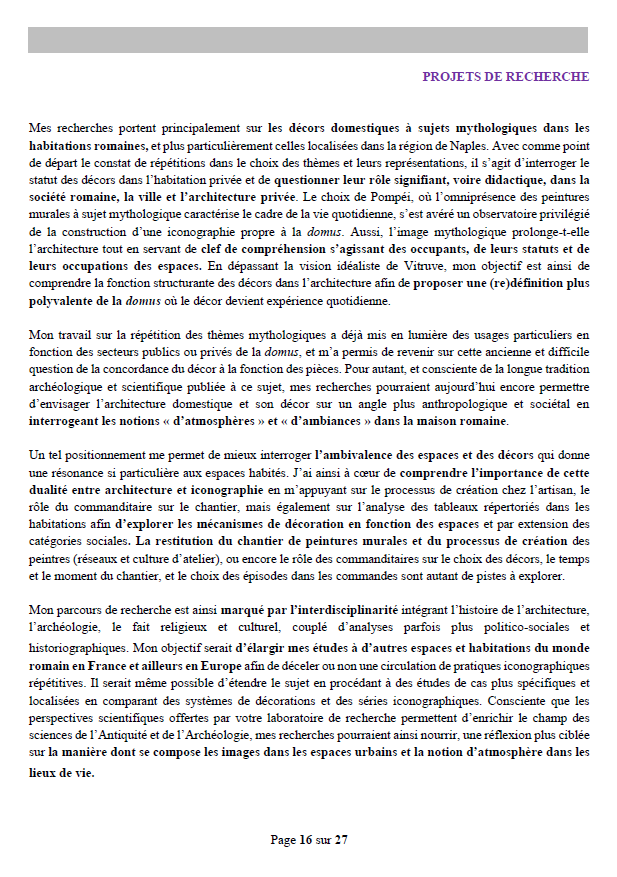 11- a numbered and standardized list of publications and communications (4 pages)
In this section, I have classified my achievements by type of event: study day, symposium, international symposium, day without proceedings, student meetings… I then numbered each achievement and offered a short summary of the theme of each.
12- a list of documents presented during the hearing and other supporting documents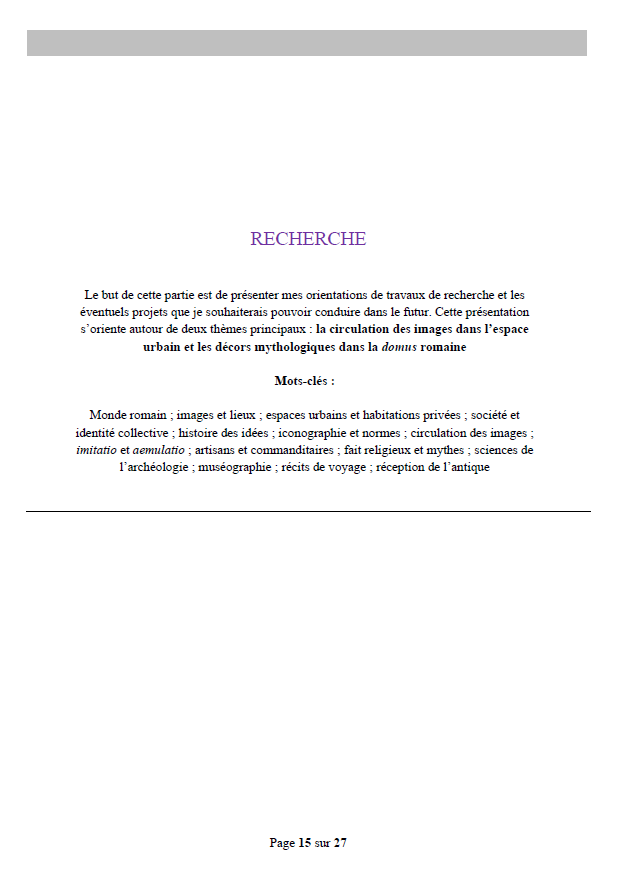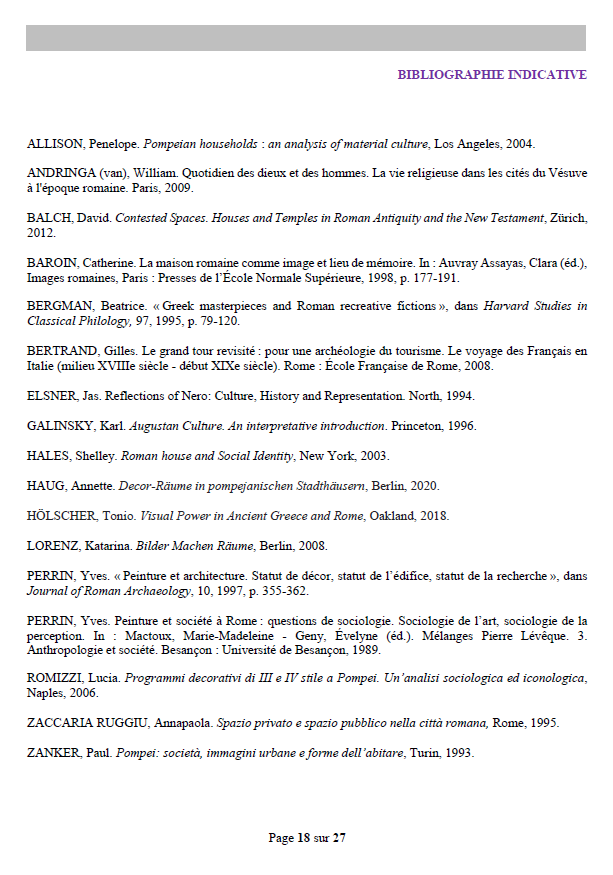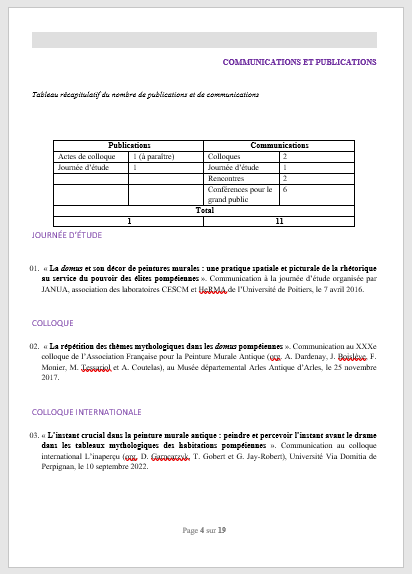 My document was 27 pages… It may seem long, but it's completely normal, and even rather short. Some files can reach up to 100 pages… The challenge is therefore to hold the reader's attention by offering regular summaries and tables throughout the file.
How to have a presentation adapted to the position ?
The articles published on this subject continually insist on the importance of being in line with the position, but how to go about it?
– Read and reread the job description carefully to assess your chances and select the important information to include in your file. Try your best to identify the expectations of the laboratory as well as possible, and your presentation will become obvious.
Be intellectually honest!
– Take advantage of your network of colleagues, friends, or acquaintances in the academic world to ask them questions and have your files proofread. An aura of mystery always accompanies recruitment, do not hesitate to ask frank and direct questions. Opinions may differ, but maybe you will be able to clarify certain implicit questions the information to be put or not according to the CNU sections. Senior members of the University often have plenty of "dormant" information to share! Don't be afraid to ask them! They are sometimes quite gossipy…
Make a good impression, make people want to meet you!
The most important thing to remember is to produce a personalized CV. Find the right balance between useful, essential or unnecessary information. The examiner must project himself and consider future collaboration with you. Highlight yourself by proposing draft of research projects or partnerships…
And for those who were disappointed with the recruitment process or their interview, here is a quote from the « Le guide du voyage galaxique (2e édition, 2021) » to take a step back :

"This guide seeks to shed light on things that remain in the dark, but that does not mean that it eliminates everything that happens "in the shadows", behind the scenes: rumors, telephone recommendations, small arrangements, etc. This is why I want to remind all the candidates that you have to try as much as possible to preserve yourself, not to feel guilty and not to overwhelm yourself. The system is unfair, there aren't enough jobs, and there are a lot of people without jobs who are doing a great job."
What do you think of French academic recruitment process for the associates professors and lecturers?
👉 You can give your opinion on this article or provide some advices or enlightenment in the comments, they will be welcome. And if by chance, you are part of a selection committee or if you want to share with us about french recruitment, do not hesitate to do so!